PIPE BRACKETS
Fast, cheap and easy pipe assembling without bending work
The VALEX bracket is easy to use for simple and clean pipe assemblings. No special tools are needed. The bracket is mounted with the screw (38 x 6 mm), which fits all dimensions. A lock is pressed over the bracket and makes it impossible to pull it off by hand.
The same center distance regardless of the pipe diameter
Thanks to the VALEX bracket, time consuming work is eliminated. The bracket keeps the pipes in place with the same center distance from the wall regardless of the pipe diameter. When the bracket is in place, the pipe is pressed into the bracket. Finally, the lock is pressed over the bracket.
Tested by Statens Provningsanstalt
The VALEX bracket is produced of HD-polyethen which endure both heat and cold. The material is also elastic and endure very heavy loads without breaking. Statens Provningsanstalt have performed extensive tests at various temperatures. We would be pleased to send you a copy of the report.
Please contact Trebema AB for prices and offer.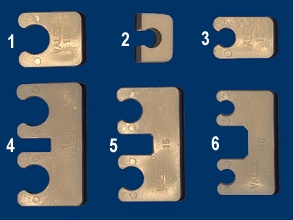 1. SINGLE - Standard bracket 26 mm c/c

VALEX
bracket
size

Copper pipes
hard or
red-hotted

Copper
pipes
plastic
isolated

Steel
pipes
soft

Virsbo-
Pex
plastic
pipes

Green
pipes
for
heating

pcs/
box

8

8

-

8

8

-

50

10

10

8

10

10

-

50

12

12

10

12

12

-

100

15

15

12

15

15

-

100

18

18

15

18

18

3/8"

100

22

22

18

22

22

1/2"

50
2. SINGLE - Special bracket short 15 mm c/c


VALEX
bracket
size

Copper pipes
hard or
red-hotted

Copper
pipes
plastic
isolated

Steel
pipes
soft

Virsbo-
Pex
plastic
pipes

Green
pipes
for
heating

pcs/
box

6

6

-

6

-

-

50

8

8

-

8

8

-

50

10

10

8

10

10

-

50

12

12

10

12

12

-

100
3. SINGLE - Special bracket long 35 mm c/c


VALEX
bracket
size

Copper pipes
hard or
red-hotted

Copper
pipes
plastic
isolated

Steel
pipes
soft

Virsbo-
Pex
plastic
pipes

Green
pipes
for
heating

pcs/
box

22

22

18

22

22

1/2"

50

25

25

22

25

-

3/4"

25

28

28

-

28

28

-

25

32

32

-

32

32

1"

25
4. DOUBBLE - Standard bracket 26 mm c/c


VALEX
bracket
size

Copper pipes
hard or
red-hotted

Copper
pipes
plastic
isolated

Steel
pipes
soft

Virsbo-
Pex
plastic
pipes

Green
pipes
for
heating

pcs/
box

10

10

8

10

10

-

25

12

12

10

12

12

-

25

15

15

12

15

15

-

25

18

18

15

18

18

3/8"

25

22

22

18

22

22

1/2"

25
5. DOUBBLE - Special bracket short 15 mm c/c


VALEX
bracket
size

Copper pipes
hard or
red-hotted

Copper
pipes
plastic
isolated

Steel
pipes
soft

Virsbo-
Pex
plastic
pipes

Green
pipes
for
heating

pcs/
box

8

8

-

8

8

-

25

10

10

8

10

10

-

25

12

12

10

12

12

-

25
6. DOUBBLE - Special bracket for Conex - Danfoss division pipes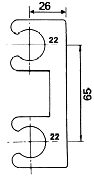 VALEX
bracket
size

Copper pipes
hard or
red-hotted

Copper
pipes
plastic
isolated

Steel
pipes
soft

Virsbo-
Pex
plastic
pipes

Green
pipes
for
heating

pcs/
box

22

22

-

22

22

1/2"

25